On Saturday afternoons we open the shop for Sit & Stitch. This is your opportunity to bring along a current project, or to start a new one and then take time out to stitch in the company of others. We are there to help, and answer questions but no tuition is provided. Come and join us in our inspiring and relaxing workspace, we are limited by size (max 8), so bookings are essential. Cost per person is $10.
To find out more and make a booking, contact the shop on 9498 6831.
SIT & STITCH - Wednesday Mornings with Tutor Yvette Stanton
On set Wednesday morning's during school term we now have the talented Yvette Stanton as our 'resident tutor'. Yvette is a well respected international tutor and author of many specialist needlework books, including the much loved Embroiderers Companion in both 'Left' and 'Right' Hand editions.
If you have a project that you need some help on or would just like to stitch in the company of others, then this may be the perfect group for you. Yvette will be there to answer your questions, provide guidence, and encouragement when necessary! Come and join us for a morning each week to get that project underway or completed. We are limited by size (max 6), so bookings are essential. Tuition must be pre-paid for the full term.
Term 4: 24 and 31 October, 7, 14, 21 and 28 November, 5 and 12 December - 8 weeks $160
To find out more and make a booking, contact the shop on 9498 6831.
---
THE CREWEL GOBELIN - 2018 MASTER CLASS WORKSHOPS
Please ensure that you register for our newsletter to keep up to date with our latest workshops and classes.
Alison Snepp
Turkish Needleweaving:
Date: 3 - 4 November 2018
FULLY BOOKED
Worked from a design found in an old photograph, this project incorporates withdrawn thread and needleweaving techniques. Nickmaned the 'tacking' sampler there is a significant amount of prepartion required pior to the workshop.
Students will work on either 35 count Edinburgh Linen or 32 count Belfast Linen to produce a mat which is heavily stitched with embroidery of varied and interesting textures
---
Nicola Jarvis - Visiting Tutor - RSN London.
"The Butterfly Garden - Modern Swete Bag"
The Crewel Gobelin Workshop is a new project – The Butterfly Garden; a modern take on a Swete Bag. Currently in Nicola's hoop the design has been printed onto a cotton/ linen fabric and is being stitched/ embellished with silks, coloured metal threads, beads and sequins.
Level:
Suitable for experienced stitchers, must have existing knowledge of embroidery stitches.
Workshop Details:
Date:
Saturday 20th & Sunday 21st October 2018
FULLY BOOKED - WAIT LIST ONLY
Time: 9.30am – 3.30pm each day
Cost: $350 per person (does not include project kit cost)
Includes: Morning tea, yummy lunch and tuition.
---
JUST ANNOUNCED:
THE CREWEL GOBELIN - 2019 MASTER CLASS WORKSHOPS
Classes and Tutors are still being finalised but here is a sample of the workshops that we will have on offer in 2019.

Alison Snepp
Our very talented tutor Alison Snepp will be retiring from teaching at the end of 2019. These are the last workshops that we will have on offer with Alison, and as such they have filled very quickly! Places are limited to 14 partcipants per workshop.
Pulled & Drawn Work Scarf:
16 - 17 March 2019 (Wait List)
Rabari Workshop:
25 - 26 May 2019 - Limited Spaces
Islamic Brooch:
27 - 28 July 2019 (Wait List)
'New' Project:
7 - 8 September 2019 (Wait List)
Margaret Light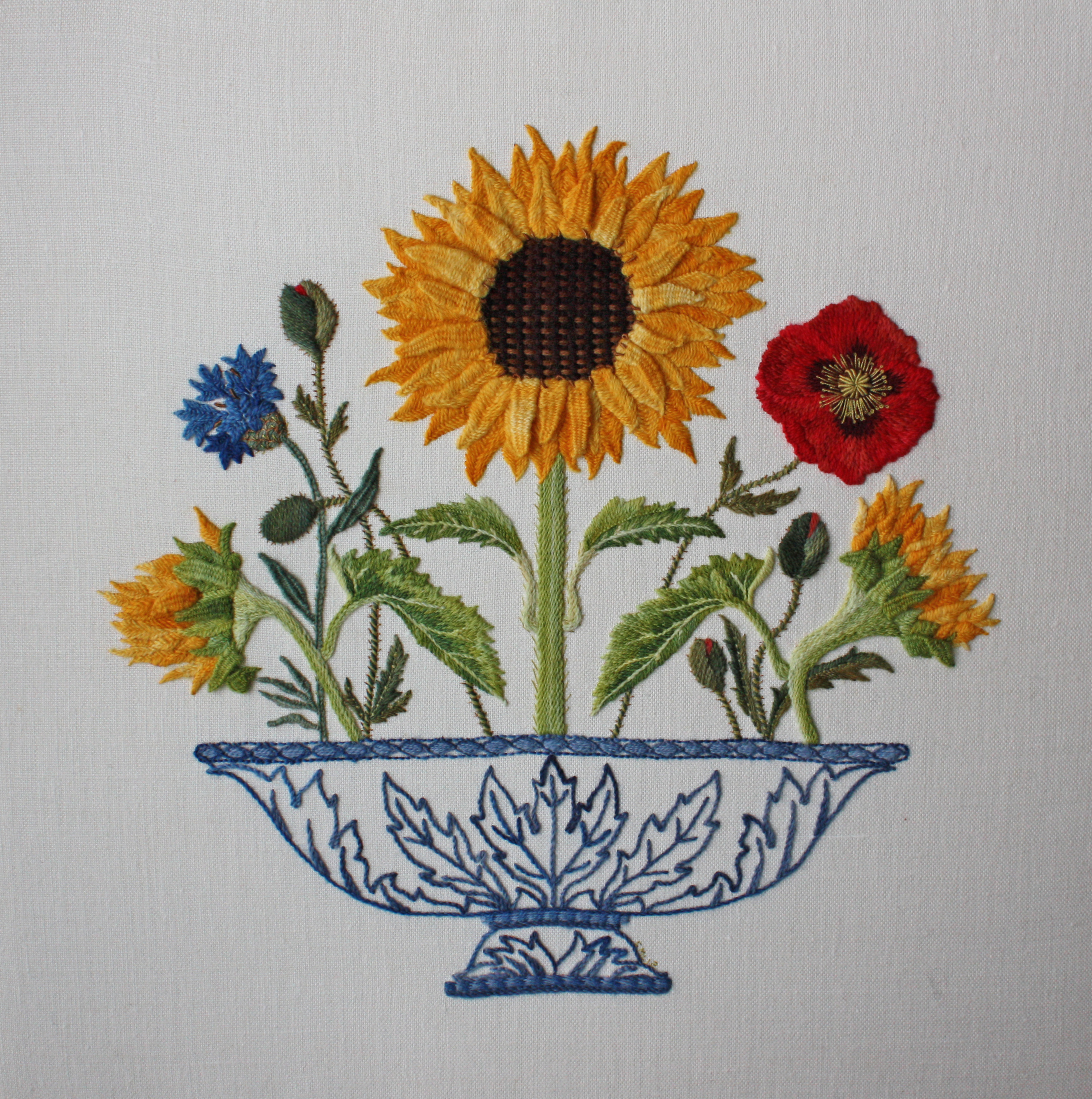 Pomegranate Still Life:
23 - 24 February 2019
Field Flowers Still Life:
21 - 22 September 2019
Master Classes are suitable for intermediate to advanced stitchers.
---
CLASSES AT THE CREWEL GOBELIN

Classes at The Crewel Gobelin are limited in size so if you are interested please secure your spot with a deposit to avoid disappointment. We are happy to take expressions of interest when a class is being developed, but once a class has been finalised and is open for enrolments your place is not guaranteed without full or part payment. Bookings can be made by phone, email or in person.

If a class is cancelled by The Crewel Gobelin all tuiton fees paid will be refunded. If a student is unable to attend a class and their place is unable to be filled from a waiting list, the deposit paid may not be refunded.

Please note that the projects and designs taught at The Crewel Gobelin and available for sale in kits (all or part thereof) remain the property of the designer/ teacher and cannot be reproduced or taught without their permission.